Chip Watts is in Cannes, France showing the world that Birmingham, Alabama is the best place to invest!
He is working with the
Birmingham Association of REALTORS®, Inc.
to bring more international people & firms into our market. Watch them live at
http://ustre.am/1b47S
or check out the conference information at
www.mipim.com
!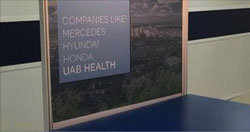 UPDATE!: They have consolidated the MIPIM 2015 live feed and social media feeds so we can follow Birmingham's involvement at MIPIM 2015 in Cannes, France.
We can now see live video as well as previously recorded video of guest speakers such as Bill Br..
See More
.