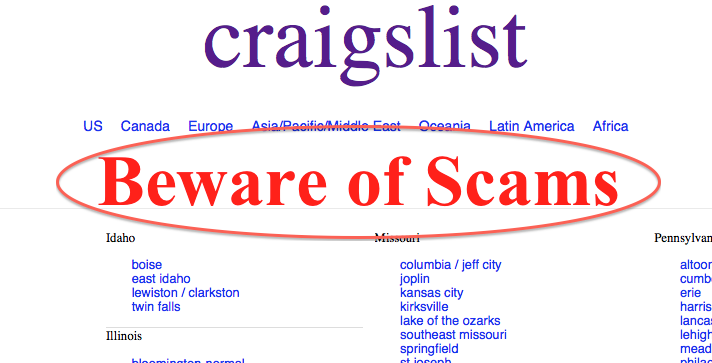 I was sifting through some property management news recently when I came across yet another report of an unsuspecting family that had found a home on Craigslist.com, paid money to someone out of country and moved all their personal belongings into the property, only to find out just days later that they were scammed out of their money and ultimately out of a place to live.
The report, like many of its kind, read a little something like this:
The family was desperate to move out of their previous rental home situation. They began the process of searching online, probably a Google search, to find a new place to live. After about an hour or more of searching online listings they come across one that looks too good to pass up. A nice home in an area they're already familiar with, and the rent, well it is listed hundreds of dollars lower than other comparable homes in the same area.
The listing says the owner just wants someone to take care of the property for a year or two while they work out of the country, and the owner wants to rent it as fast as possible. That's why the listed rental rate is so low. Sounds legit. Once they contacted the person on the listing, they were instructed to wire the deposit and first month's rent to some "lawyer" out of state and all communications are done via text or email. No keys are transferred, and is usually communicated through email that the new tenants can just change the locks after they move in.
Once in the unit, it only took a couple of days before the real property manager came knocking on the door to find out who moved into his property. Police are usually involved and it never ends well for the people who thought they had legally rented the home.
This is a horrible thing to go through, and quite frankly is no longer the exception but the norm when it comes to rental properties listed with Craigslist.com. It not only effects the poor souls that got scammed, but it also affects the property manager and their clients. It is something that every property manager has to deal with in this new online world, including yours truly.
Once we decided to go fully online with our rental listings, we saw in increase in phone calls to our office asking about properties listed on Craigslist.com that matched one of our listings on other reputable listing sites such as Zillow.com. The only differences between the two listings is the rental rate and the contact information. If it weren't for the due diligence of these individuals, we would probably have never even known our listings were being copied and posted to Craigslist. These rate at which these fraudulent listings are being listed don't seem to be slowing down and is the current reality of online rental listings. And after so many of these reported scams, I decided to make some changes to all of our online rental listings across the board.
Because photos give legitimacy to online listings, one of the major changes we made was making sure that all photos were watermarked with our brand and company name. But not just some small logo in the corner of the page; I've found through trial and error that placement and size of watermarks matter when scammers are pulling your photos from the World Wide Web. Photos can be cropped and photo-shopped, so the idea is to make it as difficult as possible and time consuming to copy our listings. By placing a logo grid across the entire photo, we've now made it harder than just pulling the photo and placing in the fraudulent. Because the grid cannot be cropped out and is very difficult to alter even with computer software, every person who sees the photo can now see our branded logo anywhere in the picture. This in-turn leads them to our contact information and hopefully deters anyone from contacting the fraudulent person on Craigslist.
Because scammers tend to just copy and past descriptions from our original listings with out putting in the time to rewrite it, we have now started placing copyright information in the description area of all our online listings. This provides anyone who may have found the fraudulent listing with conflicting contact information with the hopes that the potential renter will recognize the difference and do their due diligence to confirm the listing with our office.
These are just a couple of the things we have done at Watts Realty to make sure no one gets scammed here by a fraudulent Craigslist listing. But just in-case, here are some tips to help avoid rental scams on Craigslist.com:
Do your due diligence when researching a rental property. Google search the exact address to find any other information on the property. If it's truly legitimate, more than likely you'll find the correct information on sites like Zillow.com or your local state's multiple listing service (MLS). If you come across multiple listings with different rental rates and contact information. Follow up and find out why the information is different. More than likely the Craigslist information is incorrect and possibly a scam.
Meet the owner or manager in person. Scammers usually prefer to communicate via text or email.
Request proof of ownership or management.
If the deal sounds too good to be true, it probably is. Scammers often list rentals for a low price to lure victims.
If you take these things into consideration when searching for a rental property online, the chances of you getting scammed is very low.